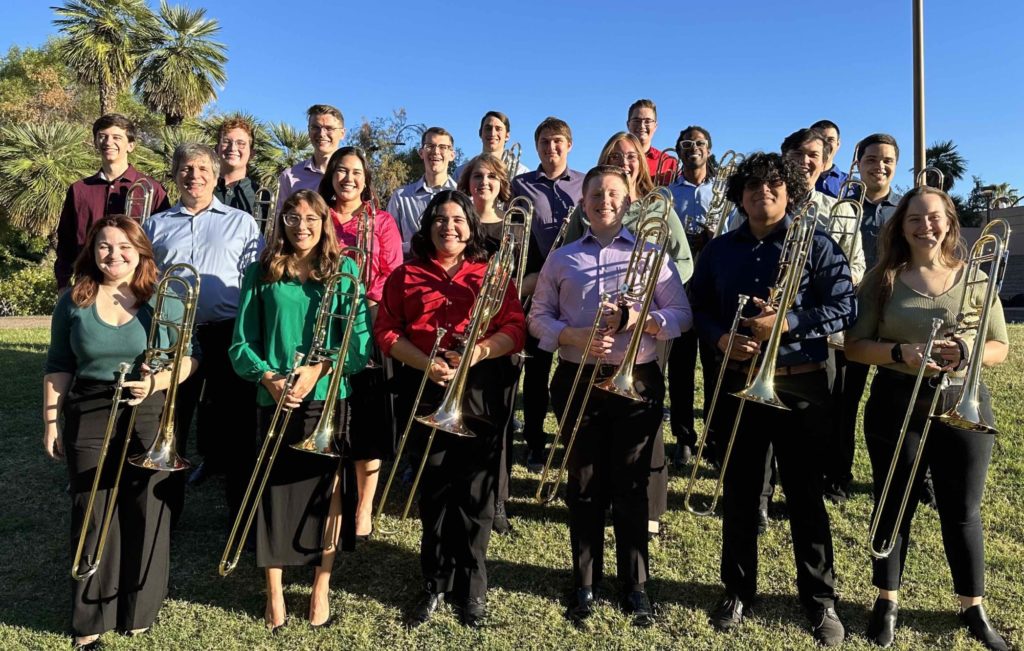 Aidan Andreoli
Senior, music performance
Originally from Owasso, Oklahoma, Aidan is currently pursuing a BM in trombone performance. She is a Tulsa Youth Symphony Alumni and and has performed with the ASU Symphony Orchestra, ASU Wind Ensemble, Wind Symphony, Jazz Repertory Band, Concert Jazz Band, and Latin Band. She loves performing and would like to play professionally as a Broadway pit musician as well as freelance in the orchestral and jazz spheres. Her other passions include dance (ballroom and otherwise), travel, and spending time with animals. She loves getting creative and collaborating with other artists. She hopes to make a positive impact in the performing arts industry in any way she can.
Kristian Bailes
Freshman, Music Performance/Composition
Kristian was born and raised in Glendale, Arizona, and has played in several ensembles recognized at the Region, State, and National levels throughout his performance career. He is a Phoenix Youth Symphony Orchestra Alumnus, and a graduate of the Mountain Ridge High School's award-winning Wind Ensemble and Marching Band. He hopes to play trombone professionally in the orchestral and contemporary spheres, and also hopes to publish his own compositions. Kristian loves listening to all kinds of music, ranging from experimental, avant-garde tracks from artists such as Arca and SOPHIE, to iconic mainstream artists such as Nicki Minaj and Beyoncé, to orchestral classics. In his free time, he enjoys indulging in his favorite video games and spending time with his friends.
Jonathan Blanco
Sophomore, Music Learning and Teaching
Jonathan joins us from the Phoenix area as a transfer student.
Jonah Brabant
Master's, Performance, Teaching Assistant
Jonah joins us from Wheaton Illinois where he studied with Douglas Yeo while earning his Bachelor's degree.
JJ Collins
Music Minor
JJ is from phoenix, Arizona but spent the last 6 years in sandy, Utah. They are starting their undergraduate degree in music therapy. JJ's passion is with brass instruments and plans to use music to help people have better lives. In their spare time they enjoy art, video games, singing, and spending time outside.
Hugh Findley
Master's, Performance
Hugh joins us from California where he received his Bachelor's degree and Cal-State Long Beach, studying with Steve Trapani.
Arwen Griggs
Sophomore, Music Therapy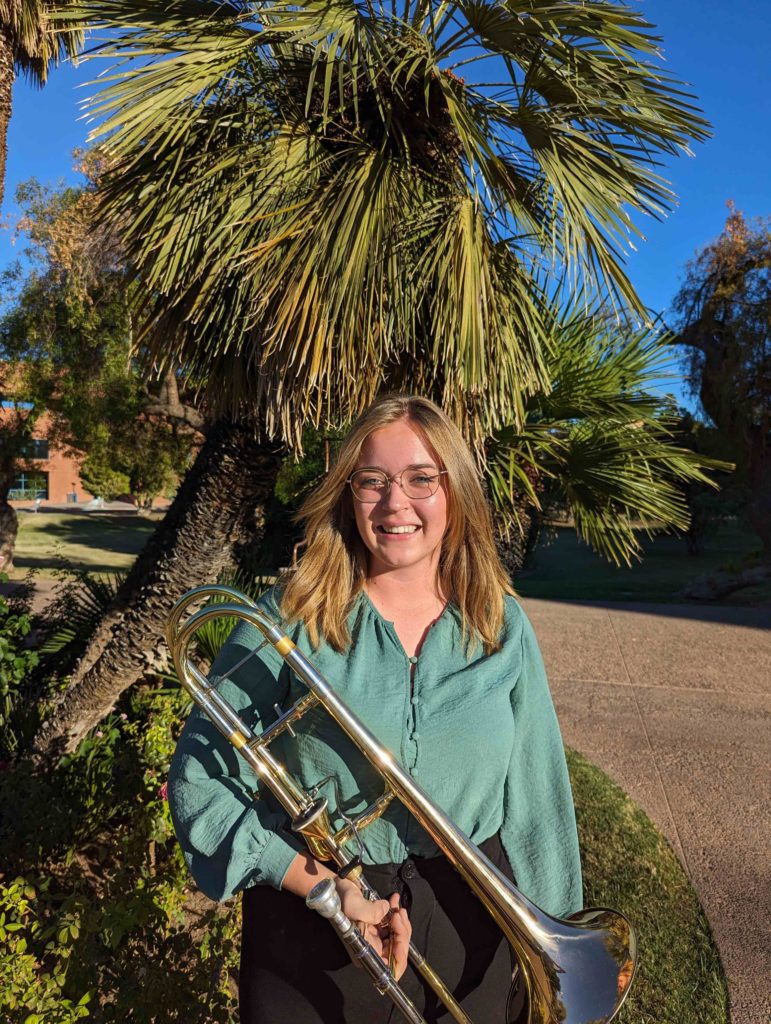 Arwen is from Gilbert, Arizona and is pursuing an undergraduate degree in music therapy. She likes to perform in many settings like jazz bands, marching bands, chamber ensembles, etc. In her free time, she likes to cook and bake, help friends and family with interior design, and go on hikes/other outdoor adventures. In the future, Arwen hopes to use her degree to become a board-certified music therapist and practice in hospice.
Ashley Rands
Master's Performance
Ashley is pursuing her Master's Degree in trombone performance after graduating from Brigham Young University. She is originally from Clarksville, TN and loves reading and going to concerts.
Ben Hazel
Senior, Performance
Ben Hazel comes from Raleigh, North Carolina in order to get his undergraduate degree in trombone performance. He has performed in various groups such as the Triangle Youth Brass Band and the Triangle Youth Jazz Ensemble. He is a current player in many of the ASU affiliated groups such as ASU Wind Ensemble, ASU Symphony Orchestra, and the ASU Concert Jazz Band. In the future he hopes to be able to play in an orchestra as well as many other ensembles while teaching on the side. In his free time he enjoys listening to music, watching shows, playing games and hanging out with friends and family
Daniel Nakazono
DMA Student, Teaching Assistant
Daniel is coming directly from Northwestern University, where earned his masters degree studying under notable musicians such as: Michael Mulcahy, Randy Hawes, Doug Wright, Chris Davis, and Tim Higgins.
With, "the Diminishing Returns Trombone Quartet," from Northwestern University, Daniel competed in the ITA trombone quartet competition finals at ITF this past summer where the group was awarded the winning title for their performance.
Daniel studied under Steve Trapani, and Mike Hoffman at CSU Long Beach, where he earned his bachelors degree. Initially he wanted to earn his music education degree to be a high school band director; however, going into his sophomore year in undergrad he decided to focus on honing his skills as a musician on the trombone and pursue a career in performance.
With dedication to refining his craft, and a hunger to learn more about the trombone and the world of music; Daniel is pursuing an orchestral career and a teaching position as a trombonist at an establishment of higher education.
He is excited to be working with Dr. Edwards and the trombone studio during his time at ASU, and is looking forward to everything he will learn from this wonderful opportunity.
Wendy Ostaszewski
Sophomore, Music Learning and Teaching
(they/he)
Wendy is from North Orange County, California and is currently working toward an undergrad degree in Music Learning and Teaching. They have performed with the Golden West Pops, Southern California School Band and Orchestra Association's (SCSBOA) All-Southern Honor Ensembles, the California Band Director's Association's (CBDA) All-State Honor Ensembles, the Claremont's Young Musician's Orchestra, and the Pacific Symphony Youth Orchestra. In the future Wendy hopes to continue performing while teaching the next generation about the power of music. In his free time Wendy enjoys learning new skills, and has done woodworking, small-scale taxidermy, sewing, analyzing court cases, and decorating Rose Parade Floats.
Robby Pawloski
Junior, Non-major
Robby joins us from the Tucson area, and is currently pursuing a Bachelor's of Science both in Mathematics and Computer Science, as well as a minor in Music Performance for Trombone. Robby played at Catalina Foothills High School in the Wind Ensemble and the marching band, performing with the latter in the 2019 Macy's Thanksgiving Day Parade. Robby spends his free time with his friends and family, and is passionate about listening to classical music, watching movies, and drinking milk.
Grant Penderghast
Junior, non major
Grant joins us from South Orange County, California. Grant is going for his undergraduate degree in Professional Flight in order to work in the airlines as a Captain. While flying is what he aims to be his career, he is continuing music as his passion and going for a minor in trombone performance. Music provides the much needed change of pace from the incredible but stressful world of aviation and gives Grant a way to continue doing everything he loves.
Ryan Pratt
Junior, Music Learning and Teaching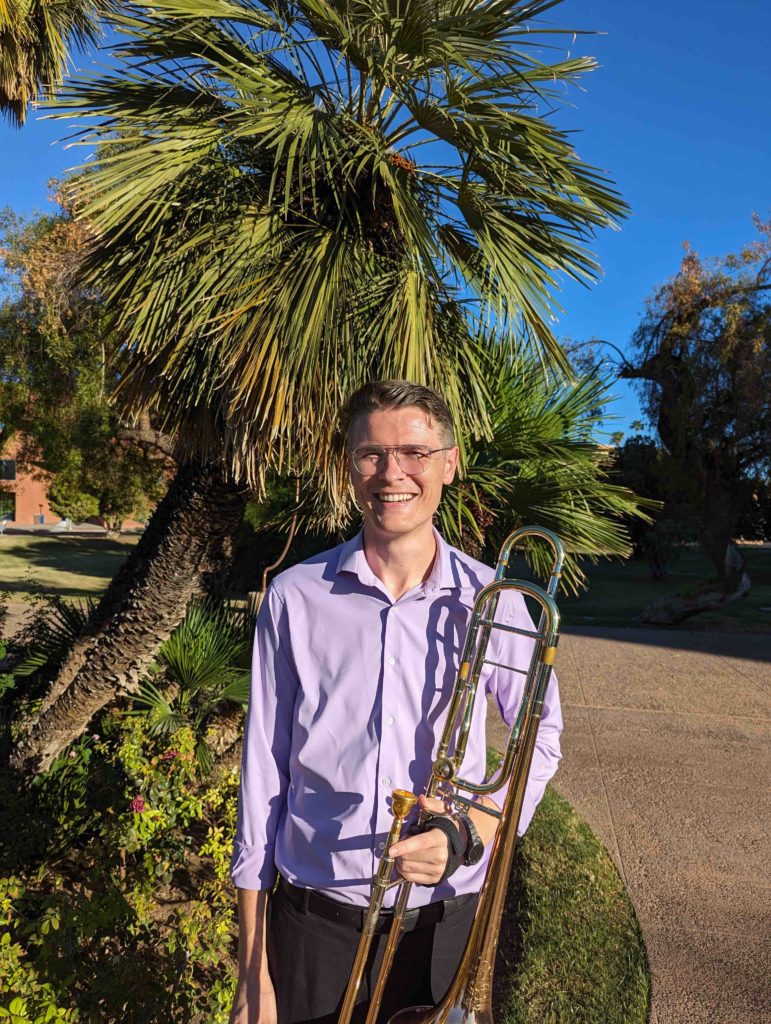 Ryan is a freelance musician and music educator in the greater Phoenix area. He grew up in Chandler, Arizona, where he attended Perry High School. After graduating high school, Ryan moved to Flagstaff where he studied Trombone Performance at Northern Arizona University. While studying at NAU, Ryan worked a few different jobs in the food service industry where he found his second passion, baking. He took a few years off of school to pursue this passion, working in some of the top restaurants and bakeries in the state as a pastry chef. However, it was not long before music lured him back in. Now, Ryan studies Music Learning and Teaching at Arizona State University. He plays in the Salt River Brass and The SRB 5 Brass Quintet and is a private brass instructor at Desert Ridge Music Academy and the Brass Caption Head at Perry High School.
Alex Skelton
Freshman, Performance/Composition
Alex is from Flagstaff, Arizona and is pursuing a degree in Music Composition. He has performed in various groups including the Arizona Music Educators Association (AMEA) All-State Orchestra, AMEA Regional Honor Band, and the Flagstaff Community Band (FCB); as a young composer, Alex has collaborated with the FCB to premiere a fanfare celebrating their 30th anniversary. Currently, Alex is an active performer in the ASU Wind Symphony and ASU Barrett Choir. In his free time, Alex loves to compose music, play video games, and spend time with his friends.
RJ Sudduth
Master's, Performance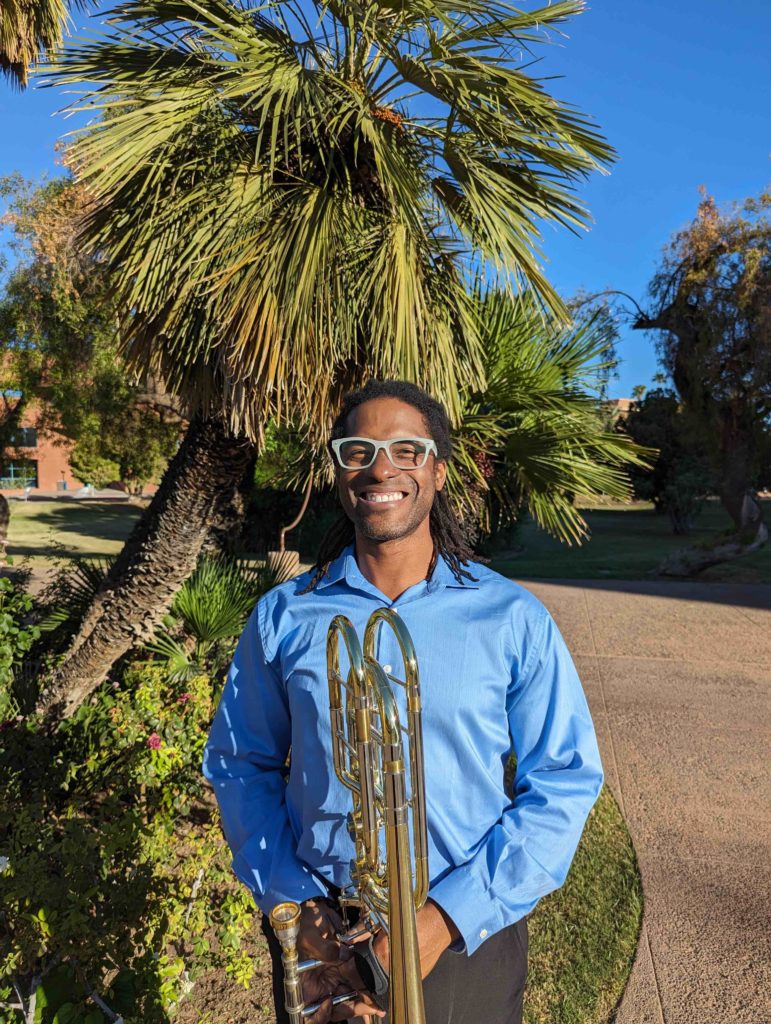 RJ is currently pursuing a Masters in Music Performance Bass Trombone.
He's been playing for 27 years and started playing trombone Sophomore year high school.
RJ graduated from Cal State Fullerton 2015 with a Bachelor of Arts Music Degree.
Some of the notable highlights in RJ's trombone career include performing at the Grammy Awards alongside Outkast and Radiohead, as well as recording an album with the Urban Renewal Project.
RJ fell in love with the sound of the trombone while watching Bugs Bunny and Tom & Jerry cartoons, but he didn't know what it looked like physically until high school. Hahaha.
He likes to cook all kinds of food. Especially Key Lime pie. Making his band nickname "Chef" a perfect fit. He loves playing trombone anytime and anywhere.
RJ works a full time job as Field Technician for KindredAI.
He is married to the most beautiful Wife in the world Alexandra Kiss (Assistant Coach for ASU Women's Water Polo) with their dog Zeno and 2 cats Cooper and Helios.
Matias Teillet
Junior, Music Learning and Teaching
Matias is from South Orange County, California. He is working towards his Bachelors in Music Learning and Teaching. He plans to become a band director in his home state. He is also a tuba rank leader in the Sun Devil marching band. Outside of music, he competes for the ASU Taekwondo team, and teaches martial arts classes during the summer. He also enjoys a good hike, as well as most outdoor activities.
Carson Webster
Freshman, Music Learning and Teaching
Carson Webster is a music leadning and teaching major from Mesa, Arizona. He held multiple leadership positions as well as earned several awards at Desert Ridge High School, where he earned his art seal. He marched tuba in the 2023 DCI season, and marches tuba in the Sun Devil Marching Band. He hopes to one day run his own band program.
Maya Willis
Non-major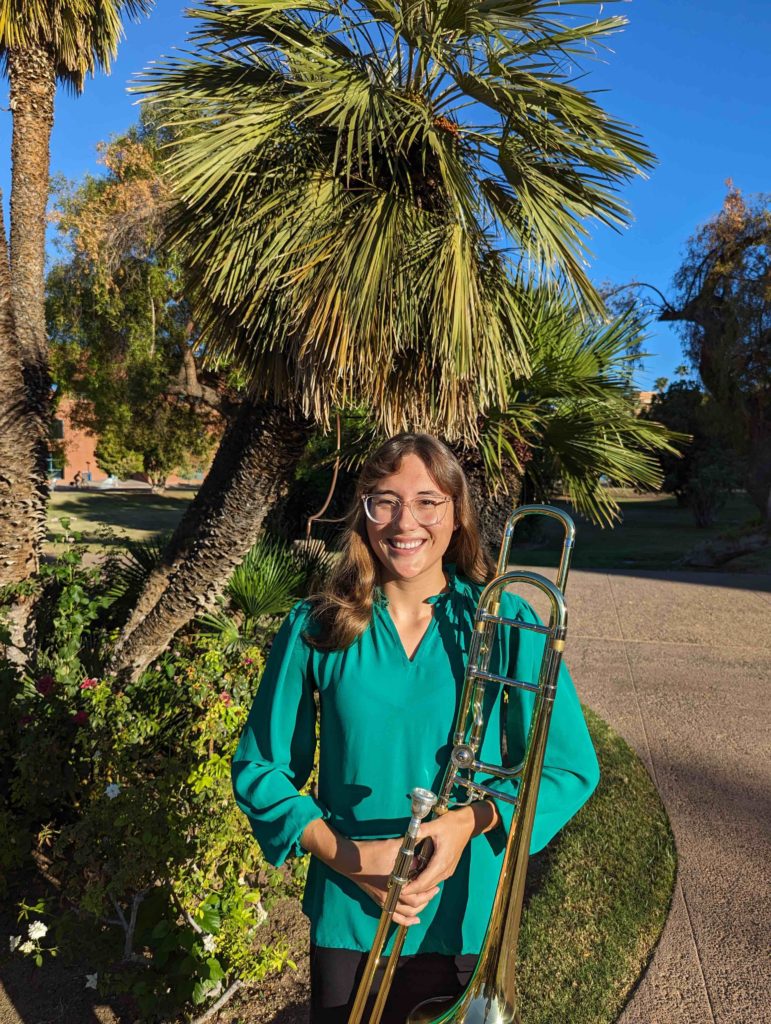 Maya is a 3rd year microbiology major with an interest in pursuing a career in clinical research! She has been playing trombone for 11 years and really enjoys making music with a great group of people as a creative aspect to her intensive studies. She's glad to be able to nurture a talent that she enjoys so much with ASU Trombone Choir!
Jenny Zapotocky
Senior, Performance
Jenny is concurrently pursuing a Bachelor's in Music Performance and a certificate in Music Entrepreneurship. Before her time at ASU Jenny performed with the NAfME All-National Concert Band, the FMEA All-State Concert Orchestra, and Completed programs with The Boston Conservatory and Berklee College of Music. While at ASU Jenny has performed with the ASU Wind Symphony and appeared in Simply Three's "September" Music video. In the future, Jenny hopes to join the military as a musician.